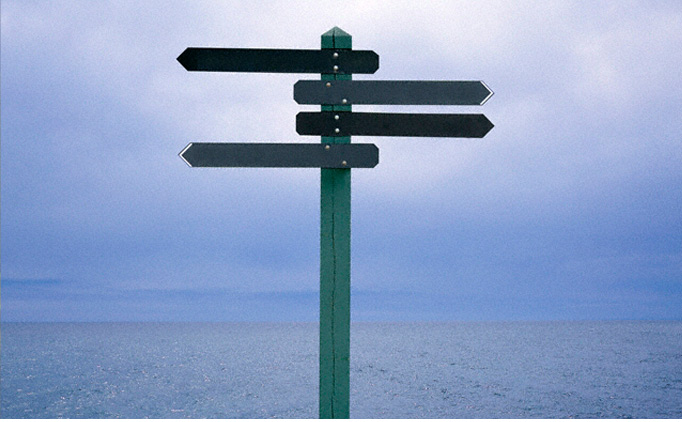 Between 1973 and 1977 I had a wonderful BIG OE in Europe. I travelled, studied, made many friends and met my wife. In August 1974 I spent two days at the French Marian Shrine at Lourdes. I took to the grotto a problem that had been weighing on me and quickly received a message from deep within that this was but a minor issue, that all would be well; but the most important thing I had to do in life was to pray.
I took this message seriously but as the years went by I entered a spiritual desert. I studied scripture, read Merton and even composed a prayer to him asking for guidance. A priest recommended Letters from the Desert by Carlo Carretto. I couldn't grasp the theme of the book but on the inside back cover wrote Deitrich Bonhoeffer's famous prayer, "Oh God, early in the morning I cry to you. Help me to pray."
Lourdes in 1974 is the first of four significant signposts in my adult faith journey and discovering the Enneagram in 1993 is the second. The Enneagram is an instrument for gauging differences in personality and is used as a means of spiritual direction. I used the Enneagram to find my way out of a mid-life crisis and took seriously the process of integration / redemption that is central to its wisdom. I had cut myself off from the world and in so doing had succumbed to the sin of avarice. I journaled my horror at finding what a mess I was in and decided that as I had got myself into this mess only I could get myself out of it. Ironically, most of this work was done at a time when I ceased to be active in matters of faith and regular church attendance.
Looking back, I see that this was part of the process of becoming 'redeemed'. Being a type 5 thinker / observer personality my approach to matters of faith and spirituality had become overly intellectualised and was not grounded in human experience let alone Gospel values. By actively seeking to connect with my direction of psychic and spiritual health (the process of integration / redemption) I took myself in what can only be described as an adventure.
I became chairman of a charitable trust supporting children with special needs while also becoming a very experienced leader in a rapidly growing outdoor sport. Through the act of leadership I was learning a new, and for me, entirely appropriate way of connecting with people. My map was the Enneagram and in hindsight I see that my guide was the Holy Spirit. I was being prepared for that third signpost along The Way, meditation in the Christian tradition. I had long been interested in meditation and investigated other forms but was uncomfortable with them not being Christian.
In the early 90s I heard of the existence of a group of Christian meditators in Auckland but was unable to track them down. In 2004 I reconnected with my local parish at a time of a parish renewal. During the session on prayer a lady sitting in front of me mentioned meditation, John Main and Maranatha. That evening I googled these words, discovered the WCCM website and then, much to my joy, found that during my absence, a meditation group had started in my local church. I immediately joined, discovered that pearl of great price and experienced a sense of homecoming that remains to this day.
Recently I read a quote from the famed English Benedictine Dom John Chapman (1865-1933) "Pray as you can and don't try to pray as you can't".
My experience as described above is common to many people who come to meditation after wandering like thirsty pilgrims lost in the desert, struggling with forms of prayer that for them are dry and therefore meaningless. Another significant thing happened too; on discovering this wonderful way of prayer I found I had absolutely no urge to read any books on Christian Meditation. Other than Christian Meditation – Your Daily Practice by Laurence Freeman OSB I read virtually nothing. This was incredibly liberating! My previous method of functioning was to seek and devour any literature I could find on the topic of the moment. It would at be least four years before I started to investigate further, and was greatly encouraged to discover that John Main had recommended no serious reading on Christian Meditation until at least three years after taking up the practice.
To begin with it took three to four years to develop the discipline of the twice-daily meditation. For the first year or so it was all stop-start with the morning meditation but by year three I was beginning to include the evening meditation. Somewhere in 2008 I found my stride so to speak and developed the practice of a twice-daily meditation, extended it out to 25-minutes and in 2009 moved to the recommended 30 minutes. I mention this not to boast but to demonstrate the wisdom of what John Main refers to as 'being gentle with yourself'. Start out slow and don't set yourself up for failure. It really is a discipline and that simple phrase, "just say your mantra" is the best advice in the entire canon.
Meditation has changed my concept of God. The idea that God is an elderly chap 'up there' has gone and in its place is God as spirit, Christ-centeredness, Cosmic Christ. Even these phrases seem inadequate to describe something that is beyond words yet waiting to be experienced. I finally began to understand what the indwelling Christ means; that Jesus lives in our hearts and all we must do is to be aware of this and actively seek to nurture the relationship.
Through meditation these concepts ceased to be intellectual propositions but a living, moment-by-moment reality. I experienced a gentle form of healing that continues to this day. The healing has taken two forms; one is being healed of the idea that I was unworthy in God's eyes and the other is that my daily practice continually heals me of negative feelings about myself. I became more compassionate towards others. In fact, when you start feeling compassion for people you would ordinarily have dismissed, you are experiencing the fruits of meditation. I devoted less time to trivia. Media consumption declined significantly, TV programmes that included violence became distasteful and my overall outlook on life became more positive.
After a few months of meditation I discovered that previously held ideas about people and events in my life had changed. It wasn't revelation but realisation; somehow, in a small but important way, meditation was making me a little wiser.
In 2006 I had the very good fortune to write an article for Taonga, a magazine published by the Anglican community. I interviewed four meditators including Fr Michael Watson, an Anglican priest and Wellington hospital chaplain. He had this to say about his experience of meditation. "Meditation makes the soul grow bigger. If you keep it up, it gradually shrinks the ego allowing the soul to expand into the space left behind." Now that is a truly profound statement.
Meditation shows just how problematic an unchecked ego is for so many of us. Indeed, you really have no true understanding of the shadow side of your personality until you form your life around a spiritual practice like meditation.
Fr John referred to this as 'smashing the mirror'. That moment in our spiritual growth when we are united with God as our Supreme Power Source; when we break through the screen of 'hyper self-consciousness of egoism'' – when we smash the mirror! Meditation does this, and it smashes that mirror over and over again.
I relate to this idea in the following way. In my early stop-start days I soon discovered that after a few days of not saying my mantra I seemed out of sorts. Groundless fears would invade my psyche, stress levels would rise and I would retreat back into a cave of negative thinking. But once I re-connected with my mantra I was able to contain these tendencies and in so doing began to understand what it means to live mindfully.
I was also being prepared spiritually for the fourth signpost on The Way. In July 2009 I placed myself under the loving guidance of a spiritual director, a very wise and humble man who is very experienced in these matters, and a fellow meditator. To begin with Andrew showed me how to read scripture in a prayerful way. He called this the 'thinking person's way' and it suits Enneagram type five thinker / observers like me.
I started with the Gospel of John and was astonished at what emerged. Each chapter spoke to me. In chapter 9 where Jesus heals the man born blind I discovered that while I had not been blind to Jesus, for some reason I had spent most of my adult life avoiding eye contact with him. In chapter 11 Jesus raised Lazarus from the dead and on reading this I understood why, 30-years after my experience at Lourdes, I finally learnt how to pray. Jesus works at his timetable, not ours. They begged him to return to Judea to cure Lazarus but Jesus lingered and Lazarus was dead three days already. Three days, three decades – what is that to Jesus? He works at his timetable and raises us on his terms.
Above all, Andrew introduced me to the concept of brothering, of inviting Jesus to be my brother. I wrote in my journal:  I must not consider Jesus as a purveyor of miracles, but as a brother who momentby-moment walks with me along the road less travelled.
In the latter months of 2009 small but significant differences began to happen in my life. Andrew asked me to note them when they occurred, but I found this hard to do for no other reason than at the time they seemed almost insignificant, and only on reflection did I understand their importance. Something else happened too. I sensed a change happening deep within me, which was difficult to articulate. I re-read many of my Enneagram books, especially those that treat the Enneagram as a tool for spiritual direction. I started reading John Main including commentators on his writings. One of these, the Canadian Protestant theologian Francois C Gerard, has this to say on the spiritual journey.
Fr John invites us to explore the nature of our human self as a precondition to wholeness, serenity, and harmony. He is convinced that unless we have a healthy relationship with ourselves we cannot expect our religious pilgrimage to lead us anywhere. To be relevant and effective, an authentic relationship with God must be rooted in self-discovery, self-reconciliation and true self-love. The knowledge of our self, or better, the searching for our true self, is already a sign of divine grace and the right place to begin.
In The Way of Unknowing John Main writes: What all of us have to discover is that the only way we can talk in any meaningful way about God is if we discover him ourselves; if we set out on the road of self-discovery which is the pilgrimage to our own essential being. The dictum of Augustine, often quoted by John Main is very apt: If we are to be restored to God, we must first be restored to our own selves and then make ourselves, as it were, a stepping stone by which we step to God. I was discovering God, I was discovering my true self. It also felt as if I had my foot hard down on the accelerator, as my journey along The Way seemed to speed up. Over Labour Weekend I responded to an intuitive feeling that I had to journal what was going on. I was astonished at what emerged.
The Enneagram, my map for self-discovery, plus twice-daily meditation had fused into a single pathway to God. Overlay Andrew's spiritual guidance and I was experiencing a feeling of Divine Presence that is near impossible to articulate. John Main and St Paul both lament the inability of words to describe such an experience. I too have been left speechless by what has occurred. The very best I can come up with is 'aliveness'! John Main has a lovely term; 'changes that occur in the minutia of life'. I couldn't have put it better myself. These are not dramatic changes; indeed 'change' is too simple a word to describe what is occurring. But something has happened; it is authentic and comes from deep within. I am responding to Jesus and Jesus is responding to me. And this is why I must continue to meditate. It is an act of giving and receiving and this giving and receiving is life changing.
Before starting my twice-daily meditation I read from Silence and Stillness in every Season, daily readings with John Main. I cannot praise this book enough as it combines wisdom with common sense. It is an excellent guide to all aspects of this wonderful prayer of the heart and a superb introduction to the writings of Fr John Main. Participation in community days, retreats and attending the Essential Teaching Workshop in Wellington in 2008 are also part of the experience. New friendships have been made and it has been a pleasure to introduce others to this ancient tradition of Christian prayer.
And I cannot praise enough my weekly meditation group. We spend just 40 minutes together every Wednesday and jointly 'recharge our spiritual batteries'. We listen to a CD then meditate for 20 minutes. There is just six to eight of us and this seems a typical number for most meditation groups. We encourage each other in what some may consider a lonely road. But it isn't. It is a road to our own heart where we find ourselves being nurtured by the Holy Spirit, which is the love that flows between Jesus and his Father. Meditation in the Christian Tradition is the authentic Trinitarian experience.
Maranatha – Come, Lord Jesus.
Vincent – Hibiscus Coast