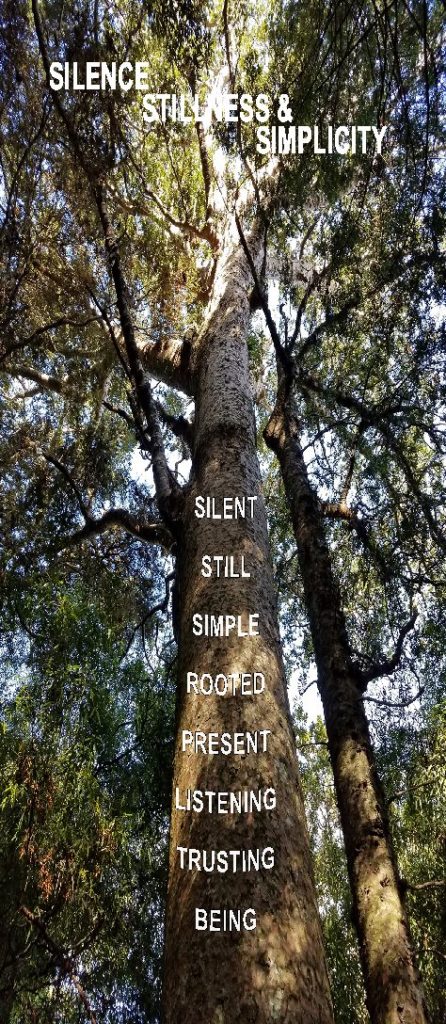 The promise that I could live a life that was happy, joyous, and free without the aid of alcohol was handed to me, by people whose testimonies I identified with, in a programme of recovery.  I stopped drinking and embarked on an amazing voyage of uncovering, discovering and recovering.  
For the next fifteen years I lived a full satisfying sober life, but, deep within me there was always a lurking notion that something was still missing in my life.  Unfortunately, this unidentified ache was not big enough to make me want to change what I was doing.   
Although I didn't know what it was at the time, there was a deep anguish within the very core of my being that was slowly and quietly growing bigger. One day the words "Praying with the Mystics," on a small flyer pinned to the noticeboard where I worked cracked open the thick shell around my dark places and allowed a thin beam of healing light to shine on them. Even though I had no idea what a mystic was, those four words captured my attention and guided my feet towards an Anglican Spirituality Centre.  
While at the centre I discovered a practice of meditation rooted in early Christianity that was framed in such a way to make it universal and available to anyone. I attended their introduction to meditation course and learned the discipline of sitting still and saying the mantra for 20-30 minutes twice a day.  It was simple but not easy as my mind often became distracted and wandered off on its own, but I was instructed how to gently return, faithfully back to the mantra.   
Just as having people support me on my recovery journey was essential, so too was the support of others as I began this new and unfamiliar spiritual quest.  I attended other WCCM meditation groups as well as meditating by myself, though I must confess that in the beginning, when on my own, I didn't meditate every day. Community Days provided an opportunity to receive much support and encouragement.  They reaffirmed that the practice of meditation would open the door to my true self, and its light would lead me on a life-long pilgrimage towards my full spiritual potential.  
In 2015 I approached the local vicar at an Anglican Church with the idea of starting a meditation group at the church. My enthusiasm to offer this meditation practice was very warmly received and so another meditation community was born. 
That same year I attended a silent retreat in New Zealand led by Father Laurence Freeman, the Director of the World Community for Christian Meditation.  While there my attention was drawn to someone carrying a book I recognised from my own recovery journey. From this unexpected encounter has grown wonderful friendships with other meditators in various recovery programmes around the world. These valuable interactions with like-minded others inspired me to start meditating regularly and become more involved with the Addiction and Recovery outreach arm of WCCM that seeks to bring this universal spiritual wisdom to the wider world.  
Another new, and difficult, season of my life began in 2017 when my husband and I learned he had a terminal illness. His death changed me and altered the course of my whole life; everywhere I looked was an unfamiliar landscape. This was a time of very little meditating, very little of anything – a time of wandering in the wilderness if you like. But, as the days and months slowly passed, I was able to gently direct my mind and body back to the mantra and set off on a new sojourn into the great unknown. Two lines of John Donohue's poem "For Grief" best describe the place I was moving towards:  
"Gradually, you will learn acquaintance 
With the invisible form of your departed;" 
In 2018, with the guidance and support of others who had travelled this road before me, I started a new online meditation group. Any inadequacies and fears I had about my ability to lead this contemplative practice have dissolved, and just as the promise of recovery was shared with me, I am now learning to feel confident sharing the many gifts my experience of this meditation practice has given me. 
My commitment to embracing and practicing this contemplative tradition has added a new depth and authenticity to my life. On a daily basis I continue to discover a language of the heart and mind that nourishes my soul.  
Peace and Love 
Annette  
New Zealand